Village Rockstars is an Assamese language drama by Rima Das that was released in 2017 to great acclaim. A film purportedly highlighting adolescent aspiration and rural poverty in the beautiful surroundings of a small town in Assam, India, seems contrary to expectations. One expects films like this to contain a predictable structure of obstacles and a stirring climax of transcendence. But it is actually free from the retstraints of plot and dramatic points with some scenes revealing nothing but the tranquillity and inescapability of life in a rural area.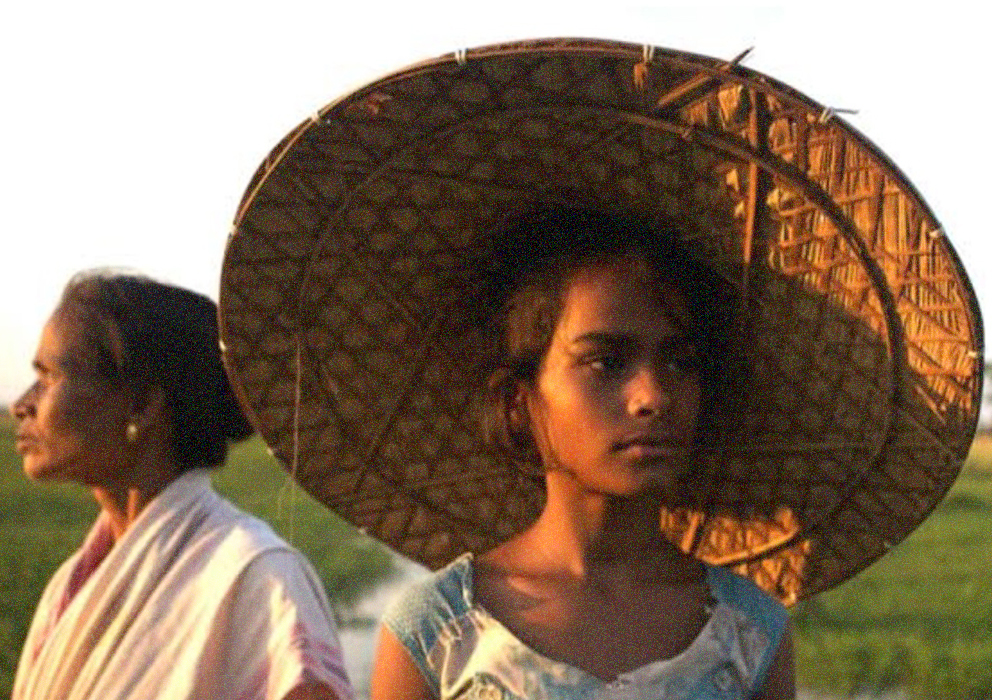 The story features 10-year-old DHUNU (Banita das), living with her widowed mother (Basanti Das) who earns money by selling betel nuts and farming their land, along with her elder brother and pet goat. One day while out helping her mother she is inspired by a band performing at a local event. She then tries to persuade her friends to think of having their own rock band. The village folks find it absurd. But her passion can still be seen when she shows her brother a  rock band in a comic book borrowed from a school friend. She tries to build hopes amongst her friends.
Dhunu spends her most of the time with boys of her age, going to government-run primary school, climbing on trees and lying on the muddy tall lokasa grass that constantly caressies them under grey open skies. Dhunu is warned by some women that the society will abandon her if she accompanies the boys. But Dhunu's sinewy, agile mother dares to oppose the culture as and quietly champions her daughter, telling others that no one can scold or harass her. She even holds Dhunu's hand, teaching her to swim across the length of a fierce muddy pond. She doesn't want her to be afraid to learn to swim and drown in the floods like her father.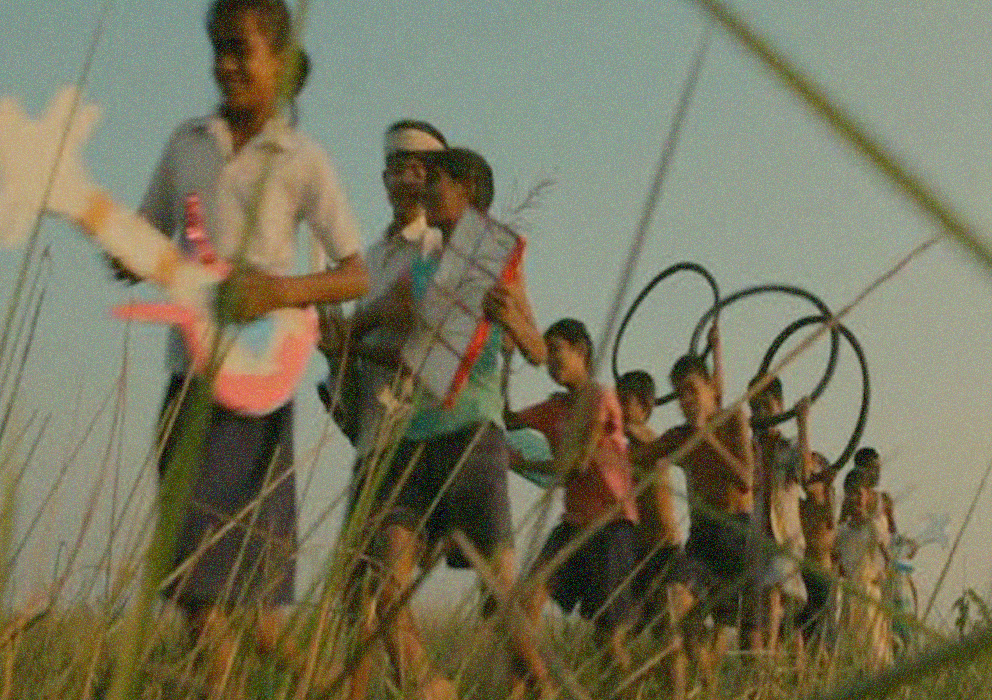 Dhunu enjoys listening to her grandpa telling stories under the tree and learns of the epic story of Mahabharata while dreaming of one day owning her own guitar. She begins to earn money by helping people pluck betel nuts while saving up to buy a guitar. However one day when she gets her period for the first time, the neighbourhood women dress her up traditionally and smear her with vermillion. They force her to undergo an entourage of rituals and warn her that the days of her hanging from trees are over. But the following scene, strong and tough Dhunu can be seen blissfully hanging from the gorgeously expansive tree which she climbs every day.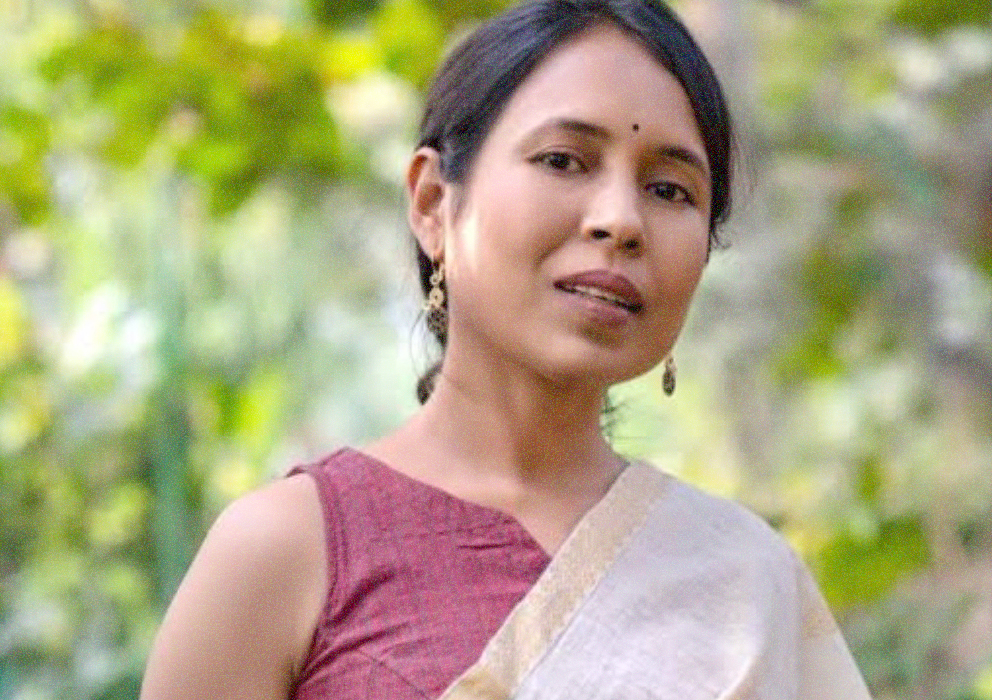 Rima Das, a self-taught filmmaker wrote, produced, directed and edited this low budget Indian indie that gives tribute to the people and the place where she belongs, shooting in the style of a documentary, capturing the floods of Assam that devastates livelihoods every year. Wooden creaky boats over backwaters and tributaries of the Brahmaputra, which Dhunu exercises with ease, becomes a vanity, a physical manifestation of hope. Even in tragedy, storms and floods, nature presents itself with the possibility that its beauty and might will somehow see Dhunu and her mother through.  
The film takes on a very simple poetic form that has its own rhythm, language, passion, aspiration. Bhanita Das as Dhunu is a non-professional actor but a firecracker on screen. This movie is not a kind of poverty showcase but the audience are meant to explore the beauty of rural life and empathise with the joy of its people. Dhunu and her friends give us moments to live in childhood and experience the small world with their innocence. They never think they are anything less than blessed though they all have challenging moments of poverty. The story slowly unfolds a theme of female empowerment as it is a woman centric movie and shows the enmeshed relationship of mother and daughter.  
The film premiered at the 2017 Toronto International Film Festival (TIFF). It received the Best Feature Film 'Swarna Kamal' award at the 65th National Film Awards in New Delhi, India and was selected as India's official entry to the 91st Academy Awards.
India's rural areas get new life in Village Rockstars.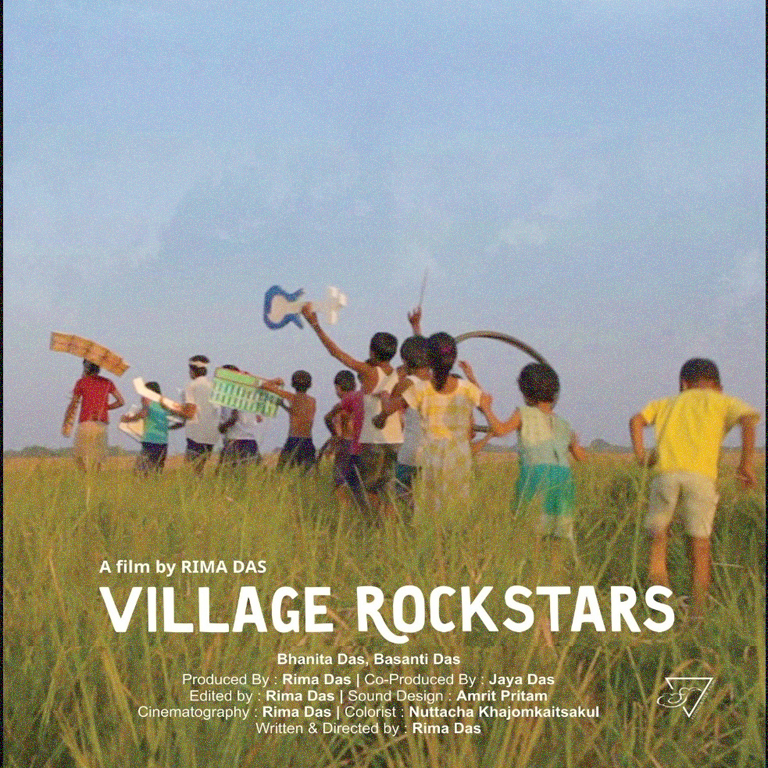 Cast: Bhanita Das, Basanti Das, Manabendra Das, Boloram Das, Rinku Das, Bishnu Kalita.      

                                                                                                                                                                                                     Dhanashri S. Gund 
The narrative starts in a shabby taxi office. Narsingh (Soumitra Chatterjee), a semi alcoholic taxi driver whose wife has just left him is being consoled by a colleague who advises him to move on and join him in a partnership. But Narsingh silently rejects the idea. We later discover it is because he hails from a warrior caste and doesn't want to remain a taxi driver all his life- he has designs on escaping the chains of his creed and becoming a gentleman. A little later Narsingh aggressively overtakes another taxi only to discover that the passenger is the city official who issues licences. Taxi licence suspended and no other means of an income, Narsingh now has no choice but to leave the city. He decides to leave and set up in a small Bengal town and on the way stops at the scene of an accident and agrees to carry the passenger into town. The passenger, who happens to be the local big wig, discusses how to make money as a taxi driver and persuades Narsingh to become a trafficker of illicit goods. He rents him a room and almost at once is visited by Gulabi (Waheeda Rehman), the bigwig's concubine and former prostitute who is immediately taken with Narsingh, believing him to be a pure and honest working man unlike her patron, "You had a woman stay in your room and did not touch her". However Narsingh has other ideas after having recently befriended Joseph, an eager fellow taxi driver and becoming enchanted with his beautiful sister Neeli (Ruma Guha Thakurta). Both Joseph and Neeli hail from a low caste and see Christianity as offering a path to equality, Neeli regularly attends church and teaches English to local schoolchildren. Narsingh gives up drinking and takes up English lessons in an effort to become a clean-living gentleman and even gets into a fight in a local bar whilst defending her honour against the gossip of local tradesmen. However unbeknownst to Narsingh, Neeli is in love with a local disabled man and he is later devastated when she secretly asks him to help her elope with her lover. Narsingh starts drinking again and drunkenly gives in to the advances of Gulabi who willingly accepts his flaws. Narsingh then accepts an offer to transport drugs in exchange for becoming a partner in a new trucking company, which means selling his beloved Chrysler car as his part of the investment and backtracking on a promise to his loyal mechanic and servant who looks up to him. However on the way to deliver the contraband his car breaks down and Jospeh is horrified when he comes across the stricken vehicle and discovers Narsingh's involvement in the criminal world. Narsingh is ashamed and after a physical altercation with Joseph in the midst of a mysterious rock formation where local legend says evil will be removed, Narsingh somehow finds his conscience and returns the drugs and decides to leave the village altogether, taking Gulabi away with him.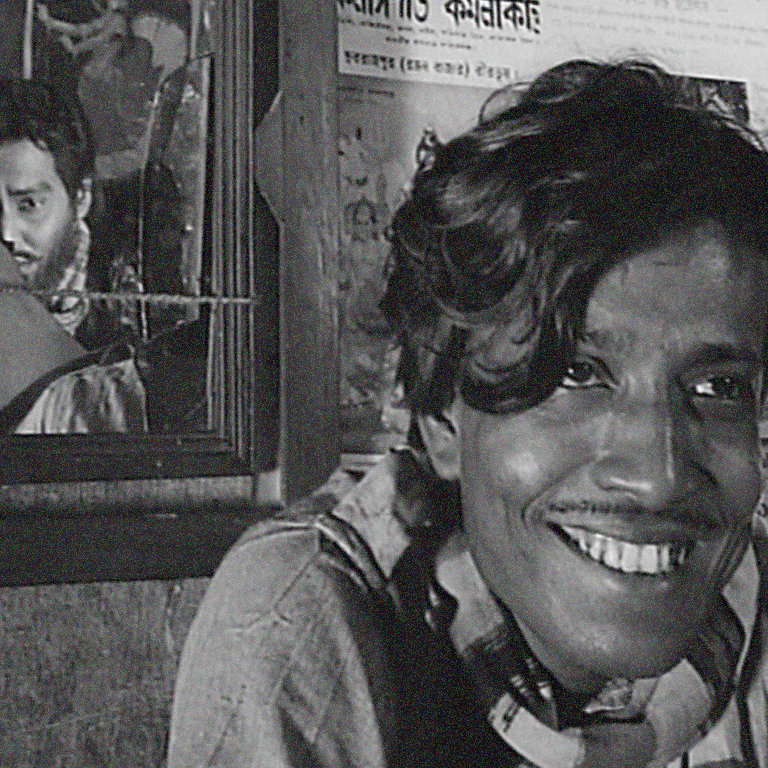 Satyajit Ray is quite rightly lamented as one of India's greatest film directors and this film has been largely ignored, labelled as a second-rate project thrown together after the failure of his previous two films. But as is my wont I will beg to counter these summations. It is clear that its commercial sensibility seats it outside Ray's more cerebral and academic works, but viewing the film it is equally clear that far from thrown together, there is a flamboyant filmmaker's craft behind this 1962 narrative film. There is much evidence plastered on the screen in very carefully contrived action and dramatic sequences that are testament to its time and place. Ray, who wrote the script based on a novel by Tarasankar Bannerjee and scored the music as well as producing and directing, tackles some core themes in Indian culture just fifteen years after its independence from colonial Britain. It could not have been easy thrusting themes such as patriarchy, feminist emancipation, religion, ambition and even today, the incomprehensible caste system into a plot-driven story of redemption. But this what has been done and done well with a distinct production value.
An imaginatively shot car chase when Narsingh attempts to outrun a train sets up the action of Narsingh's world and his risk-taking determination. One almost feels as though you are a passenger in the vehicle as it speeds over the dry tundra. The smugness of beating the train is not enough for this proud man trapped by his own ambition. There was something of the western about him, earnestly played by long term collaborator Soumitra Chatterjee, this good-looking, enigmatic man with no name in command of the landscape, yet unsure of his place within it. His inevitable firing and the humiliation of being thrown out of the licencing office is shrugged off to Rama, his mechanic and side man wonderfully played by Roba Ghosh- they are going on a new adventure, leaving the bustling city to end up in a semi rural village. As Narsingh slowly ingests himself into his new scape with the twists of what is, ostensibly, a simple uncomplicated plot, we begin to get into the minutiae of his dilemma, his absolute need to build himself into a gentleman-rightly or wrongly- and we find ourselves locked into Ray's narrative web of a man sandwiched by two beautiful women, one angelic, the other tainted by her past and his own desire for salvation. The empathy here is palpable and we, pawn spectators, cannot tear our eyes away from the scratchy, grainy 35-mm archive print that transmits the beauty of celluloid in each frame as it expresses the social-cultural history of an aspiring nation. From the opening shot that introduces Narsingh in a broken, fractured mirror - suggesting an unholy character, seen through reflection, a fragment of a man -  a long, academically inspired take, natural but seemingly cinematic; to the great car chase sequences, our damaged hero intensely focused, driven, one might say, all with Hitchcockian flair; and exquisitely plotted, overwrought monologue scenes- Gulabi's revelation of her post suicidal existence is excellent- we know we are in the hands of an ace storyteller.

This is an enthralling post-war narrative borne of a master craftsman working with limited resources and yet still able to pull together something that forty years later can captivate a technically sophisticated audience who must be warned beforehand that there's going to be scratches on the screen - that they must be prepared to supplicate themselves for an artform whereby anything less than perfect is not to be tolerated- the imperfect in search of a perfection that might cast shadow over their complex contra-facades. Which brings us neatly back to Narsingh and Gulabi, undeniably characters of our times readily captured by a wonderful filmmaker. It has been much vaunted that The Expedition inspired Martin Scorsese's Taxi Driver and of course it makes a good yarn, but where does screenwriter Paul Schrader fit into this anecdote? Narsingh and Travis Bickle are indeed taxi drivers and both become involved with a prostitute- that's where the similarities end in casting but both films share other traits, such as a gifted director and the masterly production of a majestic cinematic treat.
by MN
Info:
Satyajit Ray: The Language of Film
(BFI, 35mm) 10th and 20th August, 2022.
The Expedition (Abhijan), India, 1962, 150 mins
Screenplay: Satyajit Ray, Director: Satyajit Ray; Cast: Soumitra Chatterjee, Waheeda Rehman, Ruma Guha Thakurta, Ganesh Mukherjee, Roba Ghosh
Anyone can choose to hold out for a hero. And anyone can be that hero, until proven otherwise. This interplay between hope, excitement, expectation, and trust on the one hand and a slow drip of ambiguity, prejudice and doubt threatening to gradually undo the entire premise of canonisation of a hero on the other, is central in Asghar Farhadi's lauded film. Winner of the Cannes 2021 Grand Prix, A Hero is a compelling cinematic work - testimony of Farhadi's unparalleled filmmaking mastery and his distinct, celebrated take on realist melodrama albeit hereby revisited and slightly open to reimagination. 
Prano-Bailey Bond's debut feature film makes for a skilfully crafted, gripping homage to a sub-genre of the slasher horror of the 1980s, also known as "video nasties". Rather than a reconstruction of the blood-soaked horror category for spectators of the post-web 2.0 era however, Censor allows a fascinatingly disturbing plot to unfold through its own, uneasy but weirdly mesmerising style balancing gory elements with humorous notes and the uncanny, underlying aesthetics of nostalgia for the giallo-esque, the psycologically suspenseful and the cinematic analogue. All in all it makes for a brilliant debut film and the mark of a very promising filmmaker.
Small Body presents an aesthetically compelling and cathartic folklore tale; a woman's visceral will to reconfigure the destiny of her child and herself. Emanating the beauty and eeriness of the natural, symbiotic bond between a mother and her child, Samani's powerful debut feature film unfolds naturally and very fittingly at the backdrop of the stunning landscapes of Northern Italy.
Magnus von Horn's second feature film offers an interesting post-cinematic experience. Sweat encompasses elements of cinematic and social media aesthetics to showcase a perspective of the post-digital, social media-infused quotidian existence of the Generation Z. This aesthetic blend sets out an idiosyncratic interplay exploring the pervasiveness of social media and its effects on young people's personalities, perspectives, and relationships. Compelling though this melange may appear, it isn't always that seamlessly interwoven throughout the film. The latter doesn't reach its full potential, with all the sweat, blood and tears of the lead character not quite seeping through the fabric of a complete creative whole. Still, it is a journey worth exploring and a film well worth watching.