Leyla Bouzed's debut film is a powerful coming of age tale bursting with youthful energy, set on the eve of the Jasmine revolution in Tunisia.
This is not a portrait of the young people who started the Arab Spring. Nor is it a film documenting the events that led to the revolution in the way you'd expect a new film coming from Tunisia to be. Following a day in the life of 18 year old Farah, played by newcomer Baya Medhaffer, the film sets its tone right from the opening sequence with the excitement and restlessness of the young girl's summer routine: Breakfast with mum, rehearsal with the band, first live gig, date with band-mate and boyfriend Borhėne, late taxi home, big fight with mom, sleep, GCSE results the morning after, Musicology not Medical School, despite parents' objections.

Witnessed through Farah's rose tinted glasses, the first part of the film is a testimony of the positive, revolutionary power and determination of young people in general. And that universality is one of the main strengths of the film. Just like any other 18 year old anywhere in the world, Farah is in love, she also wants to be a musician and most importantly she wants to be free to experience her youth to its maximum. Her lust for life drives her to revolt against her family, society and a system that just won't let her be herself. 

With challenge comes conflict especially in the summer of 2010 in Tunis where that conflict soon becomes a battle. In the second half of the film Farah's life takes an unexpected turn and she is forced to fight against the personified powers that be. Her mum bans her from playing with the band, her boyfriend begins to object to her free spirit and her friend and band manager Ali, in a semi autobiographical episode turns out to be a police informant.

Farah's sole weapon, her politically charged lyrics and music, seem unable to break through society's prejudice and the state oppression. In one of the most powerful scenes of the film, her mother Hayet worried about her daughter's safety in Tunis takes her to the bus station and manages to get her the on the last seat on a coach to Gafsa. Farah leaves her mother only for 5 minutes and disappears. Tension is palpable as Hayet desperately searches the busy bus station to find her daughter. The place becomes threatening, the people deceiving, the sounds mixed with haunting voices as she spins in a torrid frenzy.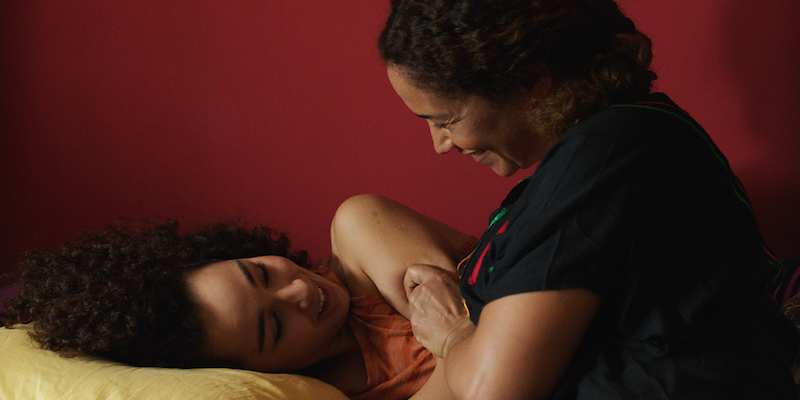 When mother and daughter are finally reunited, they have changed so much they go on to establish a brand new relationship. Leyla Bouzid explores the mother-daughter relationship brilliantly, although one felt Hayet's troubled past could have been explained more, both newcomer Baya Medhaffer and well known singer Ghalia Benali deliver remarkable performances. 

Shot entirely on location in Tunisia, using real stations, bars, neighbourhoods and their residents as extras, the film has a precious Cinema Vérité quality which contributes significantly to the plot. That sense of realism is reinforced with Sebastien Goepfert (Blue Is the Warmest Color) as director of photography bringing a vibrant composition of colours, shadows and light in front of a flowing camera.  

Intriguing and original Leyla Bouzid's lauded debut feature film showcases her talent and establishes her voice as a female Arab filmmaker. However, the film's natural flow seems sometimes to be compromised with a story unravelling in three distinctive chapters, which at times seem to be working independently. The scene with the miners strike in Gafsa for example, which encompasses very important connotations as it was this strike that ignited the revolution, is only loosely connected with the previous sequences and those that follow, leaving the viewer feeling that the film within a film concept doesn't quite transcend Tunisian borders. Undoubtedly, there is a lot of passion and skill driving the film and one gets the sense that it could have reached its full potential had there been more time to complete it.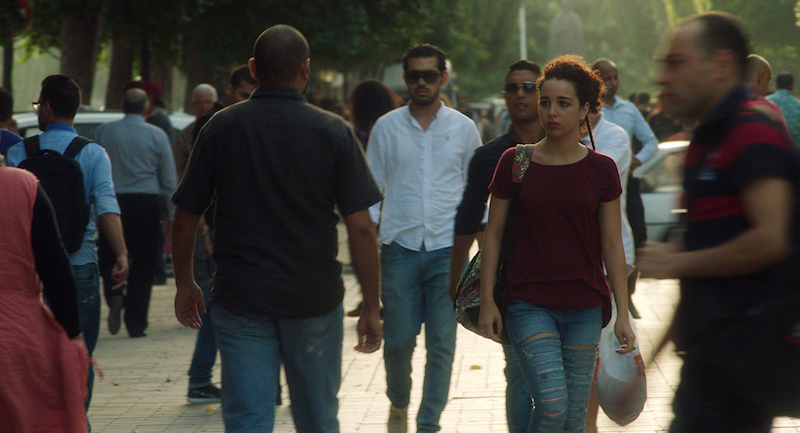 Received with great enthusiasm by Tunisian and European audiences, it's no surprise that it won the BNL People's Choice Award and the Europa Cinemas Label Award at the Venice International Film Festival.

As a LUX Film Prize Finalist the film has been subtitled in the EU's 24 official languages and will be shown in cinemas and festivals across Europe, alongside the winner Toni Erdmann and fellow finalist Ma Vie De Courgette. The LUX Film Prize which celebrates its 10th anniversary this year, is a European Parliament initiative and celebrates films focusing on fundamental EU values such as the fight against poverty, the need to combat violence  against  women  and  the  integration  of vulnerable  communities. The initiative is also trying to help European films get a fair share of the distribution pie in EU countries, which are dominated by American productions. According to the European Parliament's data in 2015 alone 1,643 films were produced in Europe accounting for 26% of the European Market, while the 791 American productions held the 64%.


Info:
Director: Leyla Bouzid. Screenplay: Leyla Bouzid, Marie-Sophie Chambon. Stars: Baya Medhaffer, Ghalia Benali, Montassar Ayari. Runtime: 102 min.  Country: Tunisia, France, Belgium, United Arab Emirates. Year: 2015.