According to the winning recipe of low cost movie tales, mass conceptualised and produced in digital silos, which has dominated all facets of the industry in recent years, Happy As Lazzaro shouldn't work. It doesn't feature any heros or villains with super-powers, for that matter; it's not an adaptation or spin-off of a popular comic book; it doesn't feature any special effects or award-winning CGI-led construction of the supernatural. Yet, Alice Rohrwacher re-defines the rules of cinematic representation of fables with this unassuming, tender, deeply humanistic tale.
From the opening scene in which a young, deeply-in-love man, sings love songs accompanied by locals playing the Italian bagpipes in order to woo his beloved to marry him, to the very last sequence set in a modern day bank, the film emanates this comforting but also disturbing feel of a pastoral tale full of nostalgia, twists and uncomfortable realities, told by your grandmother while you are half-asleep on a moderately hot summers' night, while the crickets are forming a formidable soundtrack.  
Shot on 16mm, just like Rohrwacher's previous films, Happy As Lazzaro narrates the unconventional story of a timid young man who works as a sharecropper in a farm in rural Italy and the unlikely friendship he strikes with Tancredi, the privileged son of the Marchesa Alfonsina de Luna, who owns of the farm. The first part of the film strongly echoing a rustic feel, presents the life in Inviolata, which could be translated as the unviolated. It is the name of the estate which apart from sustaining the same crops, means of production, infrastructure and amenities for workers since the Middle Ages, it has also kept the same socio-political structure: the patriarchal feudal system. Peasants are at the bottom of the pyramid structure followed, in ascending order, by tradesmen, the local lord, members of the aristocracy, the bishops and finally the king. Like their ancestors, the farmers of Inviolata are allowed to live in the estate for free, work the land and divide the earnings from each years' crop. Nevertheless, they never seem to be earning anything as the local lord, who is responsible for selling their crop on their behalf, keeps each year's proceeds against a spurious, ever growing dept. At the same time, both the Marchesa, played by Nicoleta Braschi, and the local lord maintain the feudal system to manage the estate, despite it having being outlawed by Italian authorities. And it is at this very backdrop that a cycle of abuse of power is perpetuated: The Marchesa abuses the workers and they feel that they can order around Lazzaro, the boy who always wants to satisfy and please everyone and will never refuse any request, at the expense of being considered of low intellect and continually exploited.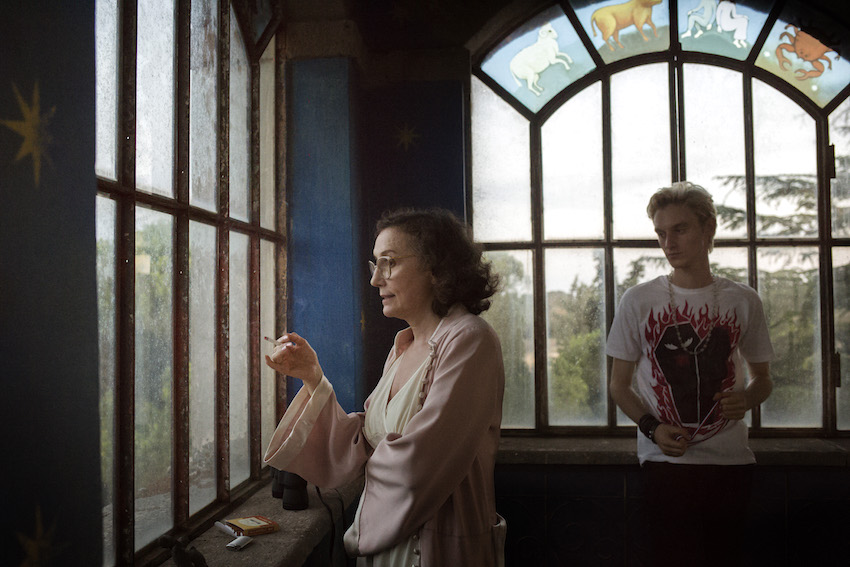 Nicoletta Braschi and Luca Chikovani in a still from Happy As Lazzaro.
This chain of exploitation appears to break however when young Tancredi decides to spend a few days on the farm accompanied by the daughter of the local lord. He gets to spend time with Lazzaro, they become friends and he convinces him to get involved in his staged kidnapping in order to extract a large sum of money from his mother. Things take an unexpected turn though and Tancredi disappears in reality. Lazzaro falls ill and running a very high fever tries to help Tancredi, but falls off a cliff.  When the police is called the illegal state of affairs in Inviolata and squalid conditions under which the farmers live and work are exposed and result in the arrest of Marchesa Alfonsina De Luna and the closure of the estate.
The second part of the film is set a few years later. The farmers are now much older, free and living in a big city. However, they are in the margins, living in penury and very despondent as they rely on petty crime just to be able to survive. Tancredi who is now a washed-up aristocrat with a tainted reputation and disappointing credit prospects, also lives in the same city, trying every possible avenue to forge a viable future for himself, his wife and their dog. Lazzaro appears all of a sudden in front of Antonia, brilliantly played by Alba Rohrwacher, one of the young servants in the house of the Marquita who is now a grown woman. With Lazzaro looking young and healthy, in the same clothes he wore in Inviolata, as if some kind of miracle had happened, Antonia believes that he is a saint. She convinces her husband to allow him to come and live with them and their elderly parents, also from Inviolata. In exchange he helps them with anything they ask him to do. He also teaches them how to harvest and eat the wild herbs growing in the street in front of the empty container they call their home. Suddenly, Lazzaro meets Tancredi again and their friendship is revived. As a symbolic gesture of his high empathy towards his problems and dedication to their friendship, Lazzaro does the unexpected. He goes to a bank and for the first time ever makes a forceful demand, for Tancredi's benefit. Unable to explain himself properly to the bank clerks and clients or perhaps due to their misconception of something outside the normative frameworks of a modernised socio-economic structure, things take a dark and unexpected turn. Despite that, Lazzaro remains happy as his potential is fulfilled. He is free.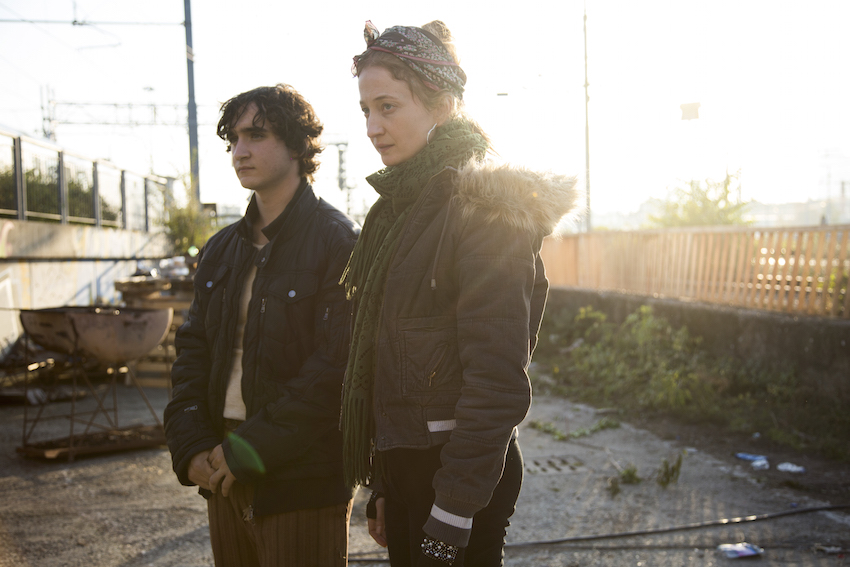 Adriano Tardiolo and Alba Rohrwacher in a still from the film.
That sense of happiness and fulfillment certainly comes through Adriano Tardiolo's debut performance as the kind, wide-eyed Lazzaro. A non-professional actor, Tardiolo resurrects the archetype of the wise-fool, which has been poignantly presented in various other works, including the character of Sancho Pancha in Don Quichotte by Cervantes, and makes it his own. Similarly, the performance of Luca Chikovani, who is also having his acting debut as the young Tancredi carries a sense of unconventional originality, much needed to express the dynamics of a contemporary reading of a Don Quichotte type of character. The clever mix of non-professional actors with acclaimed professionals in the cast helps carry the story in a compelling manner. Alba Rowrwacher carries the role of Antonia with profound tenderness and sincerity, while seasoned actor Nicoletta Braschi stands out as the Marchesa Alfonsina de Luna.
By insisting on shooting on 16mm, championing striking visuals with the mesmerising photography of Hélène Louvart, and drawing on the rich tradition of Italian neo-realism and a fresh approach to a felliniesque essence of the magic, which seriously downplays any flamboyant or extravagant features, Alice Rohrwacher delivers a unique introspective experience into humanity, the rich Italian film culture and the stature of socio-political consciousness in contemporary modernised global economies of scale. Avoiding being too pastoral, rustic or moral for its own good the film honours the origins and complexities of the genre of fables, while revealing its own soul as a must-watch cinematic experience which will stay with you long after the end credits have rolled.
Info:
Director & Writer: Alice Rohrwacher. Actors: Adriano Tardiolo, Agnese Graziani, Luca Chikovani, Alba Rohrwacher, Nicoletta Braschi, Sergi López, Tomaso Ragno. Running Time: 2h 5m. Genre: Drama.
Happy As Lazzaro is released in UK cinemas on 5 April 2019.