Magnus von Horn's second feature film offers an interesting post-cinematic experience. Sweat encompasses elements of cinematic and social media aesthetics to showcase a perspective of the post-digital, social media-infused quotidian existence of the Generation Z. This aesthetic blend sets out an idiosyncratic interplay exploring the pervasiveness of social media and its effects on young people's personalities, perspectives, and relationships. Compelling though this melange may appear, it isn't always that seamlessly interwoven throughout the film. The latter doesn't reach its full potential, with all the sweat, blood and tears of the lead character not quite seeping through the fabric of a complete creative whole. Still, it is a journey worth exploring and a film well worth watching.
The film opens with a zany piece of work-out performance by Sylwia Zajak, an upcoming young star in the fitness industry, played by Magdalena Kolesnik. "Work with the body you have, not the one you want to have" Sylwia shouts to motivate her fans attending the open training session. Her energy, enthusiastic approach, and direct connection she forms with her fans crowding a shopping centre, is reflected in a combination of close-ups of her face, hand-held camera recording her exercise routine, jumpy reels and portrait photos showing Sylwia taking selfies with her fans, which the actress appears as if she is recording on her smartphone herself. There is an interesting interplay between the multiple close-ups and hand-held camera which emanates the frenetic energy of the workout performance and the serene, portrait or landscape-oriented recordings on Sylwia's smartphone, which are somehow constructing parts of her point of view; a mechanism which also appears in other sequences in the film and creates the feeling that we, the spectators are also part of her social entourage, as it were, just by watching the film.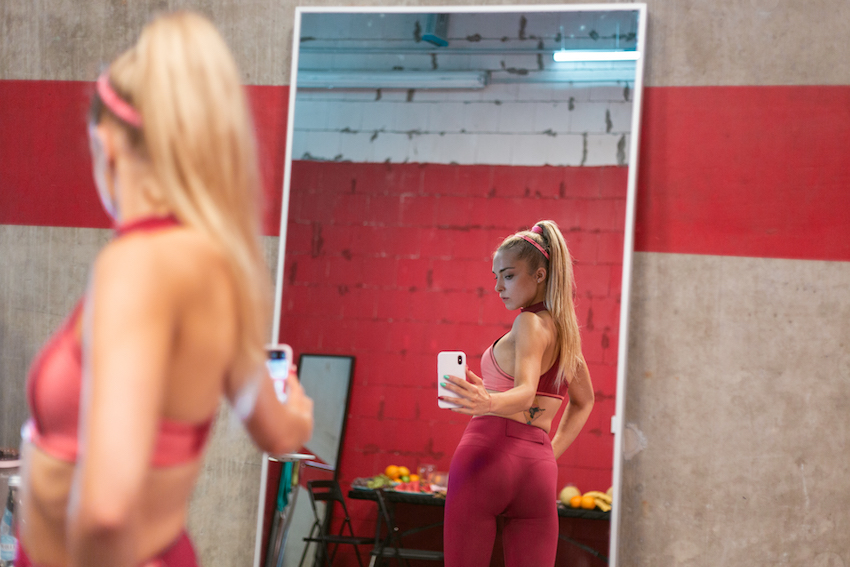 In that sense, the film itself emulates elements of social media aesthetics in dedicated sequences and seems to develop a type of dialectic connection with social media effects, offering spectators the same look, feel and point of view which her social media followers appear to be offered. Posts, reels, still images as well as the written and video-comments she receives as a response to her original Instagram entries, as well as Sylwia's overall social media presence serve as plot points. The story follows her everyday life as a fitness instructor and social media influencer. Every moment or incident that can become a post, a story or a reel in her Instagram feed, becomes one. Sylwia's daily morning routine, her nutritious breakfast, her workout, her positive thoughts, her fulfilling and numerous activities, the new products which the sponsors send her to use in her workouts, even the time she spends with her dog, become itemised, digitally materialised, commodified and upcycled to form new commodities, after her posts become viral and remediated or reproduced by other media. Her 600,000 followers are growing every day, she is getting more and more media attention and is en-route to fulfilling one of her main goals, to appear on national television and present her workout program.
Behind all the timeline-oriented success story, which she painstakingly builds day by day though, hides the lonely, isolated and vulnerable persona of Sylwia who spends most days alone in her luxury apartment, reading social media posts on her phone to sleep. These feelings of loneliness and isolation grow and culminate in an emotional video post in which Sylwia cries and speaks out about her lack of a partner and general lack of love in her life. The video becomes viral and serves as the catalyst of the events that follow in Sylwia's life. With her life lacking tender and caring interpersonal relationships, Sylwia comes to question the honesty of her real-life connections. Even her mother's birthday celebration, which is the cause for a certain build-up, ends up being a rather cold, antagonistic and awkward encounter, with Sylwia withdrawing to her childhood bedroom to eat her pre-packaged healthy meal. Things reach a breaking point when she discovers that she has a stalker following her closely both in social media and in real life. When he harasses Sylwia, she resorts to a friend for help, only to be shocked by the extent of violence the latter uses to make the stalker leave and the rather condescending and offensive stance towards her. Sylwia, shaken by her friend's attitude approaches the stalker, a troubled person who is deeply affected by her viral post about loneliness, and decides to help him before going on to make an appearance on national TV, as she always wanted. While being interviewed her emotions take hold of her and she decides to publicly talk about her sensitivities and innermost thoughts.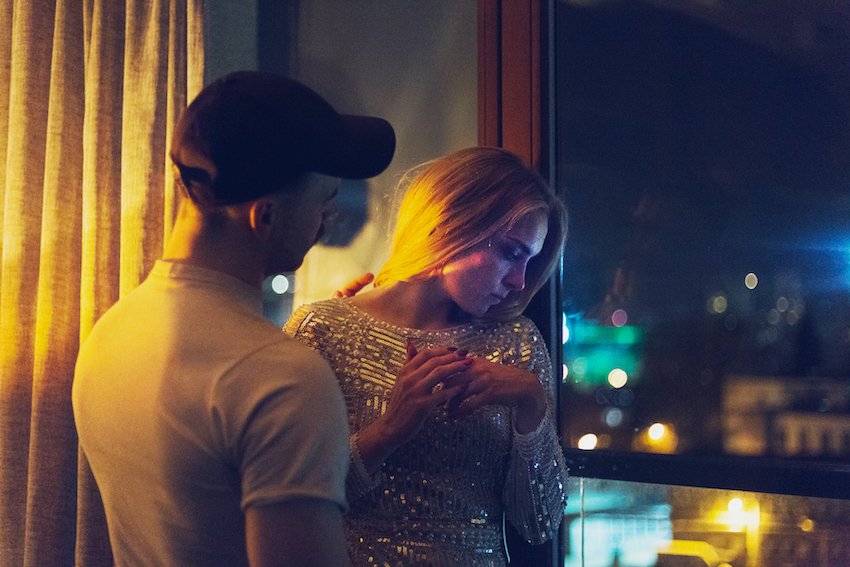 Magdalena Kolesnik's performance as Sylwia is central in the film, as she appears in almost every scene. She is believable as an upcoming fitness star and social media influencer and her fresh, energetic performance draws us in, encouraging us to actively seek for more. However, this quest for more is not quite satisfied as we don't get to see, experience and explore the journey of her character. Rather, the transition from the picture-perfect persona to the vulnerable and sensitive Sylwia, feels somewhat awkward as we don't get to see the depth and breadth of the emotions and expressions which would have been expected in this kind of evolution. Unless it is a deliberate choice to follow a reserved central performance reflecting a life lived on social media, carefully manicured so that no non-marketable behaviour appears, the performance feels somehow restrained, lacking necessary depth.
This is somewhat of a weak point, as there is a sense that the film doesn't naturally transcend from a meta-commentary, as it were, to a complete cinematic experience, despite the interesting cinematographic choices by Michal Dymek (Cold War, 2018). Something feels like is missing, the character's journey feels underdeveloped, and we don't get to see enough of the dark and dangerous side or the fitness industry, as Sylwia proclaims despite Kolesnik's best intentions. Notwithstanding the above, the film presents an interesting story of post-social media or post-influencer effects. Sylwia's addiction to her phone and social media presence has a major effect on her real-life interpersonal relationships, compellingly shown in the awkward family sequences with her mum and her partner, or the classmate she runs into while doing her shopping, or her decision to meet her friend in a nightclub after she sees a video of him dancing. These sequences are among the strongest points, which alongside the aesthetic choices make this film quite interesting to watch.
By Eirini Nikopoulou
Info:
Sweat (2020)
Director/ Writer: Magnus Von Horn. Actors: Magdalena Kolesnik, Julian Swiezewski, Aleksandra Konieczna, Zbignew Zamachowski. Cinematography: Michal Dymek. Music: Piotr Kurek. Editing: Agnieska Glinska.  Country: Poland, Sweden. Runtime: 109 min.
Sweat is available to watch in UK cinemas from 25 June and on demand through Curzon Home Cinema.