Anyone can choose to hold out for a hero. And anyone can be that hero, until proven otherwise. This interplay between hope, excitement, expectation, and trust on the one hand and a slow drip of ambiguity, prejudice and doubt threatening to gradually undo the entire premise of canonisation of a hero on the other, is central in Asghar Farhadi's lauded film. Winner of the Cannes 2021 Grand Prix, A Hero is a compelling cinematic work - testimony of Farhadi's unparalleled filmmaking mastery and his distinct, celebrated take on realist melodrama albeit hereby revisited and slightly open to reimagination. 
Set in the Iranian city of Shiraz the film follows Rahim, his story and all the different stories, explicitly or implicitly articulated about him during his two-day leave from prison. A polite and soft-spoken young father, Rahim appears to have been hit by a series of unfortunate circumstances or bad choices. Unable to pay back a short-term, high-interest loan he took in order to start his own business as a calligraphist, he is declared bankrupt and turns to his former brother-in-law, Barham for help. He isn't able to pay back the money he borrows from him either, so he is sentenced to several years of imprisonment. Suddenly, another turn of events; a miracle, as it were. Rahim's current girlfriend, Farkonhdeh, finds an abandoned bag with golden coins in it.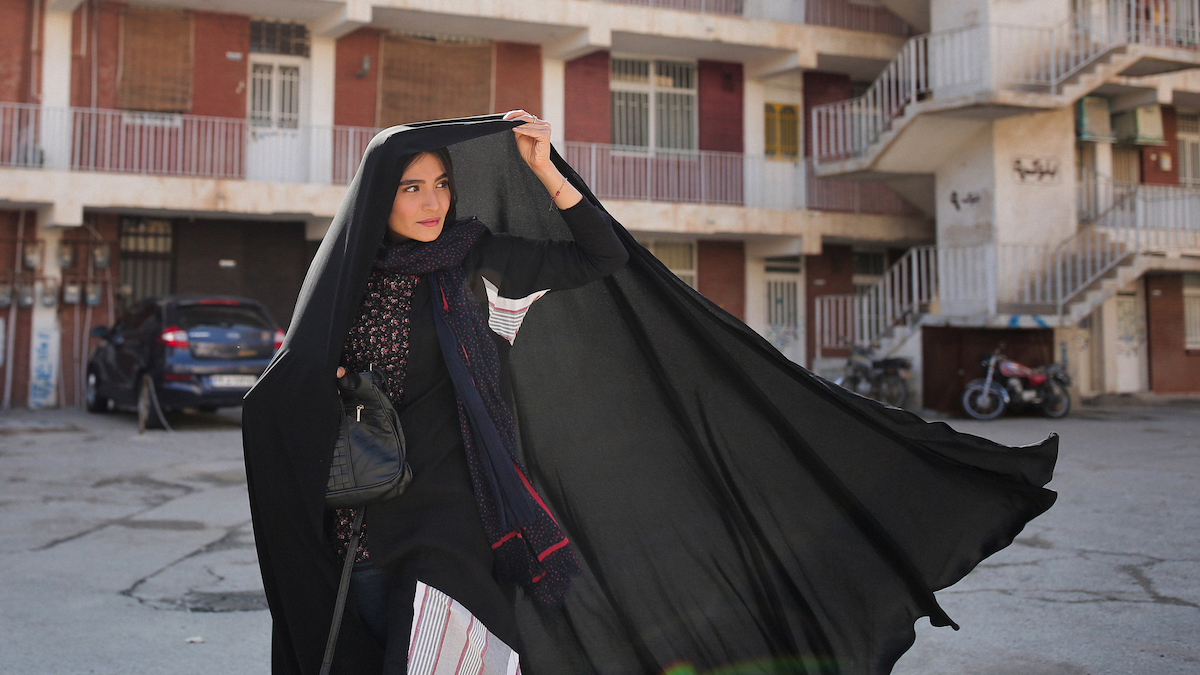 While the opportunity to sell the gold and repay some part of the debt as promised to the creditor beckons, Rahim decides to return the bag to the owner and goes on a quest to find them. This noble act is soon brought to the attention of the prison authorities, national broadcasters, and social media, as well as a charity helping people in need to rebuild their lives. Each for their own reasons they need to hail someone as a hero, re-establish a connection with altruistic acts, kindness and humility at the backdrop of what appears as a grey area between true faith in humanity and awe for people maintaining a high moral ground despite adversity on the one hand, and opportunistic image-making, cheap social capital mining and sensationalism, on the other.
The picture-perfect image of Rahim though, will soon start to fade around the edges and allow blemishes and distortions to show. Did his girlfriend really find the bag? Why is his creditor still refusing to reach a compromise with him and questions his integrity? Why did the owner of the bag disappear mysteriously after Rahim's story got national coverage? Why does he enjoy his celebrity status so much? Why did all the people who supported him so strongly start to distrust him? Why was he rejected by the council for the job he was interviewed? Why did he lose his patience and attack his creditor, Barham at his store? Why did all this speculation and rumours about him spread like wildfire on social media? And finally, why did Rahim decide in a pivotal moment to demand that his son stays out of public interventions aiming to restore his reputation by eliciting sympathy?
Amir Jadidi delivers a beautiful performance in the role of Rahim, maintaining the necessary poise, enigma, and ambiguity to carry this film. He embodies all the imaginable shades of this persona; ranging from the refined and calm demeanour of a humble, dignified artist to moments of naiveté, and from an altruistic spirit of a true hero to the dark, calculating approach of a manipulative con-artist.
This element of ambiguity and uncertainty fuelling tense moments, is skilfully maintained throughout the film inviting viewers to make a judgement call based on their interpretation of the story; based on how they piece together the plot points right up until the final scene, which brings to mind some of the most suspenseful, Caché-esque moments of darkness concealed in an open, realistic elaboration of the quotidian. What may be hidden in plain sight may provide an answer to all the questions posed by the chorus that the various fractions of the Iranian society comprise; an answer subject however to the terms and conditions attached to the point of view from which they are experiencing this reality. By opening up the possibility of the story arc to hint to multiple narratives and interpretations, Farhadi is inviting viewers to take a moral stance themselves and decide whether to believe Rahim or not as the case may be, and provide answers as to what could have happened, what would have been fair to happen and how can we definitively tell that something did happen based on speculation alone.
Interestingly, this mode of reflection, a deconstruction, as it were, can be thought to be mirrored in the porous, self-reflective approach of the realist melodrama he himself mastered in previous, lauded works such as The Salesman (2016) or A Separation (2011). With A Hero, Farhadi seems to be revisiting his own take on the genre to pull apart its constituent elements by abstraction, apheresis. What is being withheld, what is not there could have enhanced the pathos and possibly led to a heightened emotional involvement in certain scenes; arguably though it prevented the possibility of emotional exploitation. By marking the boundaries of his approach to the genre Farhadi makes an informed decision not to cross them and seems to want to make spectators know. We never get to watch any of Rahim's actions which can confirm or deny the slanders and rumours attacking his integrity and dignity, nor do we see his son, who has a speech impediment, make a public appeal that his father has his reputation restored. In other words, just like the narrative includes multiple iterations which could have been, or could have become a reality, this self-reflective approach to the type, style and form of the story indicates what could have been shown and how. The emotional engagement and catharsis are left to the spectators to construct, experience, feel and decipher.
Asghar Farhadi offers a masterfully crafted and compelling cinematic work, about possibilities, rumours, prejudice, pre-determined assumptions and faith to the occasional, unexpected miracle. The film is screened as part of the 65th BFI London Film Festival and, as with all of Farhadi's work it is a must see.
By Eirini Nikopoulou
Info:
A Hero (2021). Director/ Writer: Asghar Farhadi. Actors: Amir Jadidi, Mohsen Tananabandeh, Fereshteh Sadre Orafaiy. Cinematography: Ali Ghazi, Arash Ramezani. Film Editing: Hayedeh Safiyari. Produced by Ashgar Farhadi, Guy Olivier Perè.
Screening times:
Monday 11 October 2021 17:45, Curzon Soho Cinema, Screen 1
Wednesday 13 October 2021 11:45, BFI Southbank, NFT1
Thursday 14 October 2021 20:15, BFI Southbank, Studio
For tickets and additional information:
https://whatson.bfi.org.uk/lff/Online/default.asp?BOparam::WScontent::loadArticle::permalink=herolff