It takes a lot of bravery and talent for any filmmaker and actor to undertake the herculean task of remaking a critically acclaimed film, which features a widely loved, larger than life type of character. Particularly when this story, not in the English language, was directed by the same filmmaker and engaged audiences internationally. Sebastián Lelio and Julianne Moore however, succeed in creating and delivering Gloria Bell. A 2.0 version of the original Gloria, which feels authentic and unapologetic, a celebration of life with a lot of soul and reinvigorating energy of its own accord.
Gloria (2013) Sebastián Lelio's multi award-winning film, featuring Paulina Garcia's outstanding performance, had set the bar too high for anyone to recreate it respectfully, without falling into the trap of oversimplifying or mimicking. Moreover, with the original film having made such an impact only six years ago, the odds appeared against any actor who would hold the titular role, since Gloria was still alive and kicking gracefully the collective cultural subconscious.
Julianne Moore delivers Gloria Bell brilliantly, striking the right balance between a mesmerising earthiness and a contagious lust for life. She embodies a woman with a magnetic personality, great empathy and a heart that beats fast. She speaks English, lives in Los Angeles and shares the fears, loneliness, happy memories, optimism and even outbreaks of joy and fun any independent woman at ease with herself would experience. Julianne Moore is Gloria Bell. The stalwart actor, who has portrayed inspiring and powerful stories of other female characters on screen (ie Still Alice, The Hours, Maps To The Stars, etc) delivers a reinvigorated and unique exploration of the iconic character that makes her feel timeless, timely and fresh.
The film, almost a shot-by-shot recreation of Gloria which utilises a large proportion of the original dialogue, follows the story of 50-something insurance agent Gloria Bell. Divorced for the past 12 years and free of other commitments she has a lot of time to herself. Her son (Michael Cera) has a young family and her daughter (Caren Pistorius) is a yoga instructor who has just fallen in love with a surfer from Sweden. Gloria tries to maintain a good relationship with both of them, ringing them frequently and even joining a yoga class to spend time with her daughter. She likes to dance and often visits a club where mature people can have a drink, dance and meet others. One night she meets Arnold (John Turturro), a retired military man who owns a recreation park specialising in paintball games. They immediately enter a whirlwind romance, spending more and more time together. Things start to turn sour however, when Arnold starts disappearing at the most inappropriate times and it soon emerges that his life is far more complicated than he had originally presented. To make matters worse, he keeps coming back to apologise and make amends. Gloria needs to make a decision about the way she wants to lead her life.
The scene around the table during Gloria's son's birthday, a brilliant study of characters, is the pièce de résistance of the entire film. Performances are great all around. However, John Turturro stands out as he truly elevates the character of Arnold to another dimension; between the surreal, the meta-physical and the harsh realities accompanying people with emotional baggage.
Despite the plethora of similarities between the original film and its adaptation, there are some important differences regarding the context, the backdrop against which the story unfolds. A Chilean woman in her '50s Gloria, her husband and Arnold formed a large part of their personality during the time of the military junta, the dictatorship led by General Augusto Pinochet which ruled the country from 1973, following the coup d'état overthrowing President Salvator Aliente, until 1990. This specific context gives room to socio-political connotations which offer a different understanding or perhaps more insight into the characters' deeper phycology and motives. Furthermore, it provides a different lens to assess Gloria's journey so far, as well as her determination, quirks, tenacity and thirst to lead a free and happy life.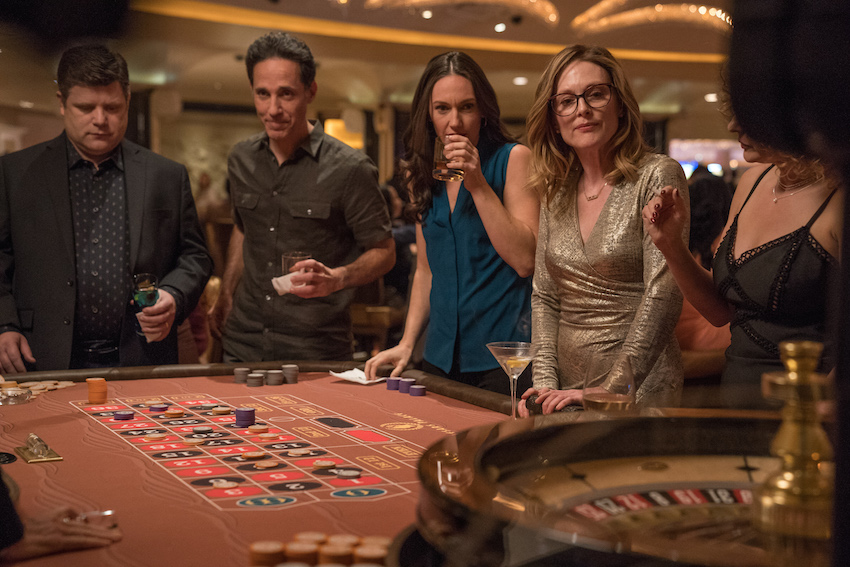 On the other hand, Gloria Bell is set in USA, particularly in Los Angeles. The talks around the table are re-contextualised to reflect present day issues, which society in USA is facing, such as gun violence, the state of the economy, the generational divide regarding social mobility, loneliness in the third age. There are sequences focusing on one of Gloria's colleagues and the slow and painful process of being let go from work, which echoes the precariousness of working conditions many middle aged women are facing. There is a sense that the stories of these well-crafted characters, which strongly resonate today, are developing in somewhat of a contextual void, as there aren't connotations of a general socio-political background which might have influenced them.
That being said, it also provides Lelio with a unique opportunity to present his story regardless of the idiosyncrasies and particularities of geographic regions, political structures, cities, societies, ideologies and countries. It allows the quality of his screenwriting and humanistic attributes of the DNA of his film-world to shine and resonate anew with human experiences anywhere. Lelio manages to secure an almost classic status of Gloria, which could be placed anytime, anywhere and still work. In this sense he doesn't just give us a new and fresh cinematic experience of his timeless, timely and universal story. He also secures his place among the most talented contemporary filmmakers.  
By Eirini Nikopoulou.
Info:
Gloria Bell. Genre: Comedy/ Drama. Director: Sebastiàn Lelio. Writers: Sebastiàn Lelio, Alice Johnson Boher. Cast: Julianne Moore, John Turturro, Rita Wilson, Michael Cera, Caren Pistorius, Sean Austin. Produced by: Sebastiàn Lelio, Pablo Laraìn, Juan de Dios Laraìn, Jennifer Semla. Cinematography: Natasha Braier. Film Editor: Soledad Salfate.
Gloria Bell is released in UK cinemas and on Curzon Home Cinema on June 7, 2019.