Chie Hayakawa's impressive debut feature film presents a captivating dystopia about the calculation of elderly citizens' right to a dignified life, the impunity of those who decide who is granted that right, and the elusive meaning of humanity, in near-future post-extinction capitalist societies. In a cruel, calculating and survival-of-the-fittest, deficit-ridden individualistic society, senior citizens are considered to be the least productive and most burdensome group to the economy and society.
Violent outbursts targeting the elderly, food restrictions and unspoken uneasiness is an uncomfortably mundane situation in near-future Japan. In this context, a state programme for voluntary euthanasia seems to be the only option for the low income, lonely and vulnerable Japanese citizens over the age of 75. This state-inspired concept of natural selection which is shaping public sentiment, by virtue of an efficient and devious propaganda campaign, seems to gradually tear the very fabric of society it aimed to mend and strengthen. Having little option but to navigate life, their personal understanding of morality and the limits of their empathy and humanity, through Plan 75 different categories of citizens try to come to terms with what survival and life really means to them.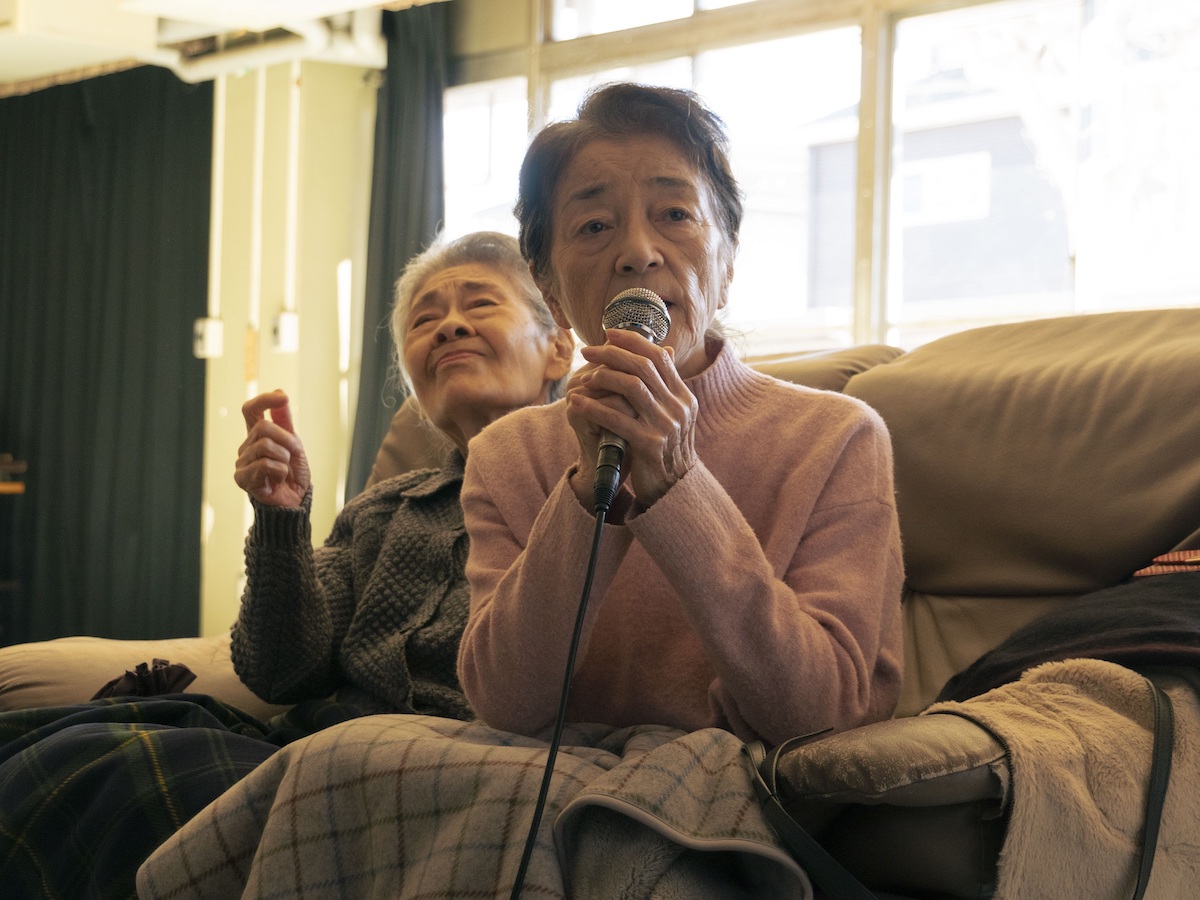 Hayakawa's choice to present all her characters with empathy and compassion and have the idea of disruptive societal conflicts unfold in a muffled way is what makes the film really stand out. A sense of muted violence is rushing through the screen right from the opening sequence. A blooded weapon, a rolling wheelchair and the stark eeriness of a murder that has just occurred in a care home, but hasn't been depicted on screen, sets the tone right from the outset. It is the effects of violence slowly creeping in that comprise the impactful sequence, inspired from a recent, real-life incident in Japan. Cut to the serene and carefree days slowly going by for a group of elderly Japanese ladies talking about apples and reminiscing of their younger days; their neighbours in the same home, being tended to by Maria, a young care worker who has immigrated from the Philippines. The attention she puts into caring for other people's loved ones is so pure and wholesome it feels like something that would have probably been reserved for her own family members, had she not been forced to remove herself from her own home. It is the excess of love and the vulnerability she puts into her interactions with others that reveals a kind of response to some type of socio-economic violence she experienced before initiating the process of migration.
This type of restrained grief for an unexpected, forceful and troublesome change in one's life, due to the invasion of a certain socio-political construct, is reflected in the story of Michi, the protagonist beautifully played by Chieko Baisho. Measured, refined and dignified, the frail but energetic 78-year-old hotel maid walks lightly across endless corridors, among fixed furniture and moving trolleys. Her movements are slow, tentative as she makes sure to clean, move and replace items to an original intact position. There is a sense of ceremonial mindfulness almost, as her experienced hands make their last contact with the items they have been so closely connected to for a number of years. It is the same hands, paired with lively spark in her eyes and an effervescent tone in her voice celebrating her retirement in style, touching her old vinyl records and holding a microphone at the karaoke lounge. The same pair of hands prepare a lonely meal at home. The same pair of hands dial the numbers of friends and acquaintances and government organisations to ask for work when she finds herself in financial difficulty. The same pair of hands caress the luxury brochure she is provided with after vising the offices of Plan 75 sand calls them to enrol on their program for her voluntary removal from the Japanese society and life. This is where she meets Hiromu, a polite, caring and conscious employee who makes sure she has all the right information in order to proceed with an informed choice.
His professionalism and emotional restrain is challenged when a member of his own family, his estranged uncle, enters his office and decides to register for the program as well. A different type of violence by alienation, following some type of irreversible and destructive change in his personal life must have occurred a long time ago. His tiny flat, bare of furniture, items and strong memories is a testament to the way he leads his life now. His uncle has made peace with the facts and events of the past and feels completely free to let go. Hiromu however, takes great responsibility in making all participants in the program have the best possible care for them. As a result, he is willing to go off script and follow his own sense of duty in respecting and giving a fair chance to an elderly member of his family.
The paths of all characters converge in a scene, powerful in its subtleness towards the final stage of the program, as designed and carried out by Plan 75. It is where capitalist determinism is overridden and the power of the people to forge a different path for themselves and their fellow citizens is carved out, by simple acts of kindness, spontaneity and a revived hope for a life uncharted but hopeful. The cathartic closure doesn't come with pompousness or a high note, however. In line with Hayakawa's restrained tone, passion and all emotional intensity associated with a subversion of an iteration of post-extinction capitalist determinism is carried almost in silence, a muffled laugh, as it were, filling the heart but not necessarily the room with its loud sound.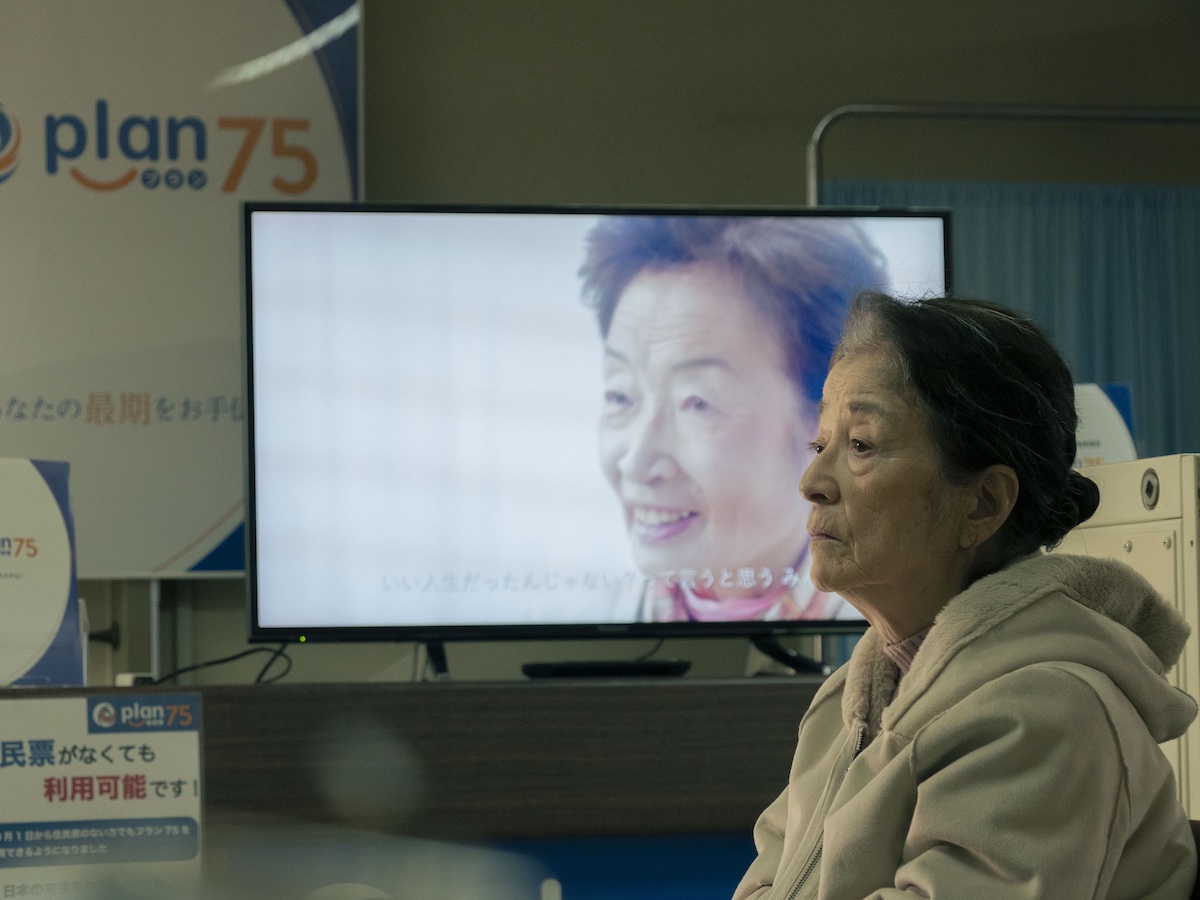 Hayakawa focuses on a moment in time in which certain conditions arise that could potentially lead to a detailed edition of capitalist determinism on steroids. By exploring the intricate facets, details, people, contexts and places, she makes a valuable contribution to the genre of ethical-dystopian films, in a tradition established by the seminal Soylent Green (1973), among others. Unlike a citizen-versus-totalitarian regime type of approach however, the film assumes a quotidian life of authoritarianism as a prequel; a dystopian governmentality that just feels too close. We are lured in through the beautiful cinematography and keep watching the refined facets of a regime, which have the potential to be established and further refined in the near future. Beautifully tender and surreptitiously harsh, Hayakawa's dystopian film-world creeps in under a realistic, empathetic gaze which makes it possible as an alternate reality, rather than an extreme socio-political regime in a future far, far away.
This premise, given with a soft aesthetic approach, assumes an internalised conscience of a ruthless capitalist society and the death of citizenship as we have known it in a disturbingly seamless manner. This notion of governmentality, imbued with a disturbing notion of demoralisation, natural selection and a capitalist determination of the categories of citizens with access to their full rights on the basis of their surplus value, is triggering. The realistic way in which this possible future is rendered though, makes the film premise strike a chord with our perceived humanitarian values and our socio-political ethics. As the dignity of Hayakawa's characters makes its way to the spectators' hearts, the film as a whole makes for a raw and impactful cinematic experience that transcends the confines of the cinema room. Plan 75 premiered at Cannes' Film Festival Un Certain Regard section last year to much critical acclaim and is still lingering in critics' and spectators' minds and hearts for all the right reasons.
By Eirini Nikopoulou.
It is now available in UK cinemas.
Also, on demand: https://homecinema.curzon.com/film/plan-75/
Info:
Writers: Chie Hayakawa and Jason Gray. Director: Chie Hayakawa. Cast: Chieko Baisho, Hayato Isomura, Stefanie Arianne, Taka Takao. Producers: Eiko Mizuno-Gray, Jason Gray, Frédéric Corvez, Maéva Savinien. Director of Photography: Hideho Urata. Light: Yoshio Tsunetani. Editor: Anne Klotz. Country: Japan. Language: Japanese. Year: 2022. Duration: 113 minutes.