Set in the French port city of Marseille, immigrants wait in the hope of acquiring the correct paperwork in order to migrate to a country they see as a safe haven, in this case, Mexico. Seemingly stuck in this self-imposed island territory relationships are formed, dissipated, naturally- or by interfering locals in hoc with the police- or serendipity. In the meantime those who can survive, survive, while awaiting their fate.
It is undeniable that the premise behind this highly tensile story is prescient in the present day, however there's a strange disconnect in the idea of a political dissident fleeing persecution in Germany attempting to get to a designated 'Free-zone'. Along the way assuming the identity of a deceased author whom he came across on his travels, eventually finding himself in Marseille where he becomes drawn to the world and transient lives of other refugees hiding away in plain sight. It's an interesting subtext. It's as if he becomes someone amongst the nobodies, thus is torn between leaving and staying.
The notion of fleeing one's nation, becoming a non-person and having to verify your very being, your existence, in order to gain the necessary papers to qualify as a citizen, perhaps a human being of this world and then, while in limbo, in transit, as it were, awaiting such documentation to be a legal citizen, become party to the corruption of survival within a community of people perceived as illegals; to partake, participate in the many untold stories, the relationships, one such being with Marta, a fellow German refugee tasked with caring for a pair of prize hounds for wealthy benefactors in exchange for a transit visa. Later in the story she abandons the dogs and treats Georg to a slap-up champagne lunch where she declines to discuss her past or her future and then casually exits stage left.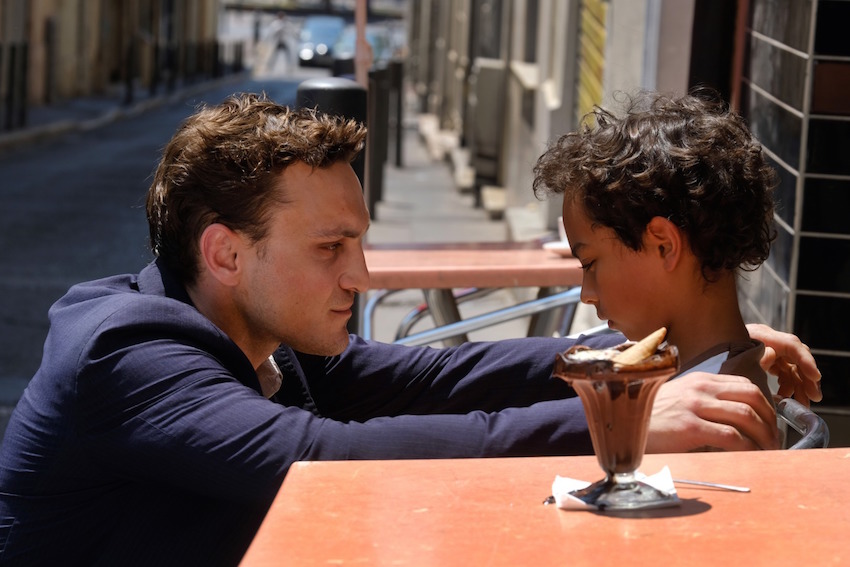 Then there's the story of Driss, the asthmatic football loving boy with the hearing impaired mute mother, whom Georg strikes up a friendship. Driss misses his father and is traumatised when Georg tells him that he will eventually leave Marseille. The crestfallen boy then blankly refuses to see him again, even when gravely ill. And this is where he comes into contact with the doctor, also in transit, who is the lover of Maria, whom Georg himself, falls in love with in a psychological three-way stop start relationship.
Director, Christian Petzold utilises an exceedingly literary approach to telling this story which is based on the 1942 novel by Anna Seghers. The cinematic moments made much of the downtown locale of Marseille and is beautifully shot in places but all too often, at least for the first half of the movie, we meandered in a plodding literary-ism that elicited confusion, not helped by enumerative narration and the technique of intertwining historical events with the contemporary, a trope inherently more complex than was considered here. Not least because fleeing political persecution in the 1940s cannot be compared with fleeing a nation completely destroyed by historical hegemonic imperialism- many of the so-called refugees surging into southern Europe today come from countries invaded, ravaged and culturally cleansed by the very countries they are attempting to get to. And even when granted independence in the sixties, the Europeans never really gave these countries the autonomy they sought- instead, waving goodbye, lamenting au revoirs and auf wiedersehens whilst leaving behind a giant footprint and steel-toed boots in the hallway. To be facile, it is more honest to say that most modern day refugees are actually coming home, coming home to the mother country.
Notwithstanding all this conjecture, the film is a thoroughly enjoyable visceral, whimsical and poetic work despite the ambiguous time-frame. Frank Rogowski gives a solid performance as the wandering Georg and Paula Beer, likewise as Marie. In fact, the casting throughout was dandy. No doubt the narrative may draw a distinct comparison with the well-known movie gem, Casablanca and could also be in danger of falling into the arena of pastiche, but overall Petzold's 'author-led' film is rather more auteur than mainstream and that alone gives it an edge that makes it well worth seeing.
by Mark.
Info:
Transit. Written & Directed by Christian Petzold, based on the book "Transit" by Anna Seghers. Cast: Franz Rogowski, Paula Beer, Godehard Giese, Lilien Batman, Maryam Zaree, Barbara Auer. DoP: Hans Fromm bvk. Editor: Bettina Böhler. Composer: Stefan Will. Producer Florian Koerner von Gustorf, Michael Weber. 
The film is released in UK cinemas on 16 August 2019. Further info: https://www.curzonartificialeye.com/transit/